Splendour in the Grass: Days 2 & 3
Day 2
Day two had us all feeling a little grungy and not quite as refreshed as yesterday. We swapped our peaceful beach walk for a quick shower and got right down to business...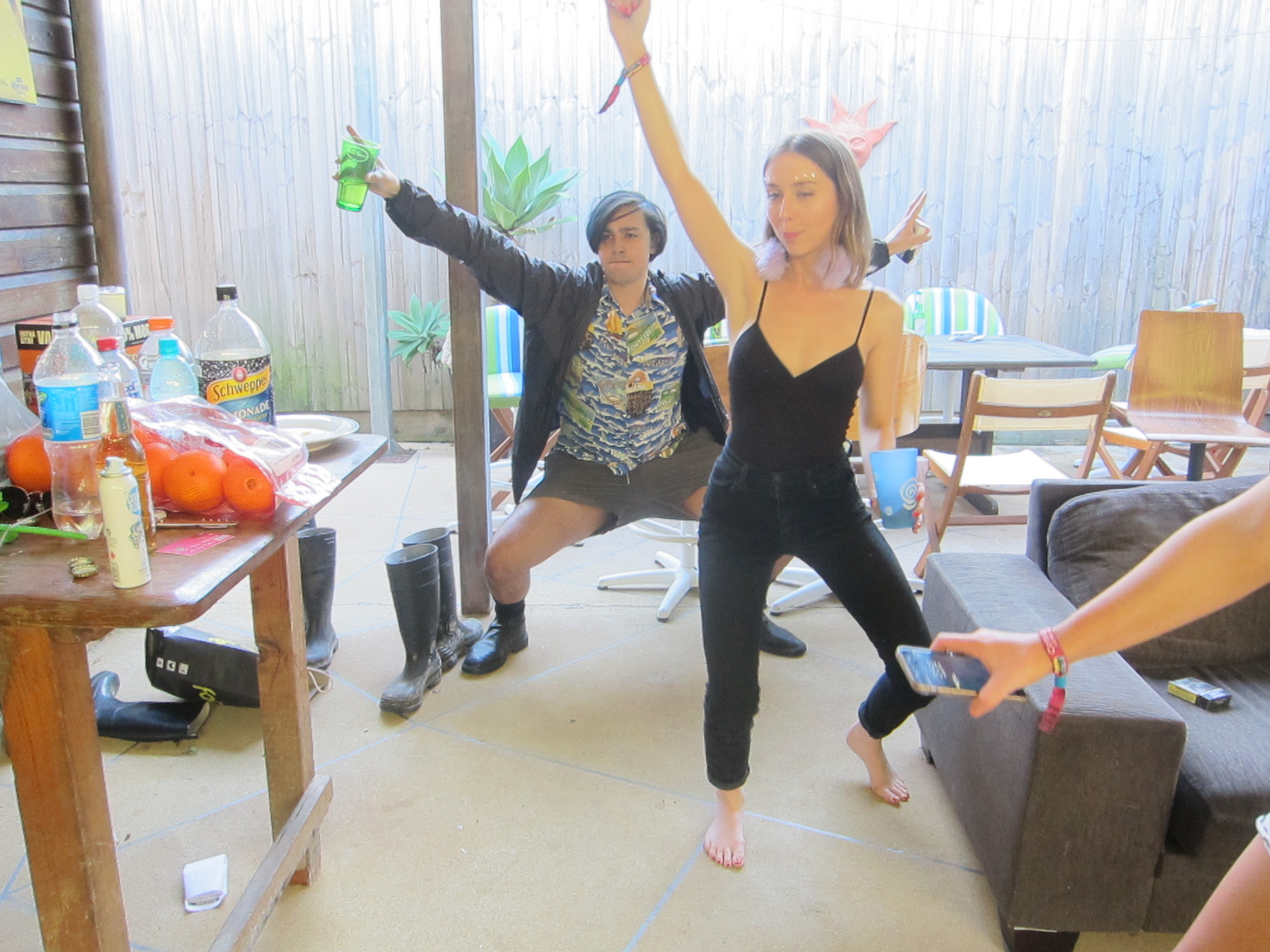 As you can see from more than a few of our outfit choices, Day 2 had us really feeling the festival vibes and we got into character easily.
Glitter was applied, glassed were filled, and we took our places around the table.
We finally got allll the girls in one spot and it's safe to say the outcome was very girlband-esque.
Me and my main girl, Jenna! This little darlin was one of the first people to spark the idea of my Australian adventure and I love her so much for it. She is a delight to be around and has made me feel included and like it's totally normal for me to be here since day one. Not to mention, it's been great to have a girlfriend on the inside! ;)
Probably for the best that not a lot of photos exist from the moments leading up to our departure, but before long it was time to go! Although kinda brutal on the way back at 2am, I loved this walk! During magic hour, the sky lit right up in gorgeous shades of pink and orange.
As much as I love sitting in the grassy amphitheater, swaying to the music of live bands with a drink in hand, I think my heart belongs to the dance-y music of the DJ tents like the one below. First of all, they're always warm! But also full of energy and upbeat music that I CHALLENGE you to stand still to - impossible.
We ended up on the grassy hill anyway for The Cure, but I got to wear Conor's jumper, so I guess all's well that ends well!
Day 3
Our last and final day of the festival approached too quickly after the chaos that was Day 2. With nostalgia already creeping in, we pulled ourselves together pretty decently and tried to savor every moment.
However, don't let the fact that we look like we showered today fool you into thinking our final hours passed without shenanigans...
Lombie may have cleaned up the best of all of us; Mercifully replacing the infamous straw farmer hat for something a little more suitable for his fine looks...
No question as to how he scored himself some nice arm candy...
Short on time, not shenanigans!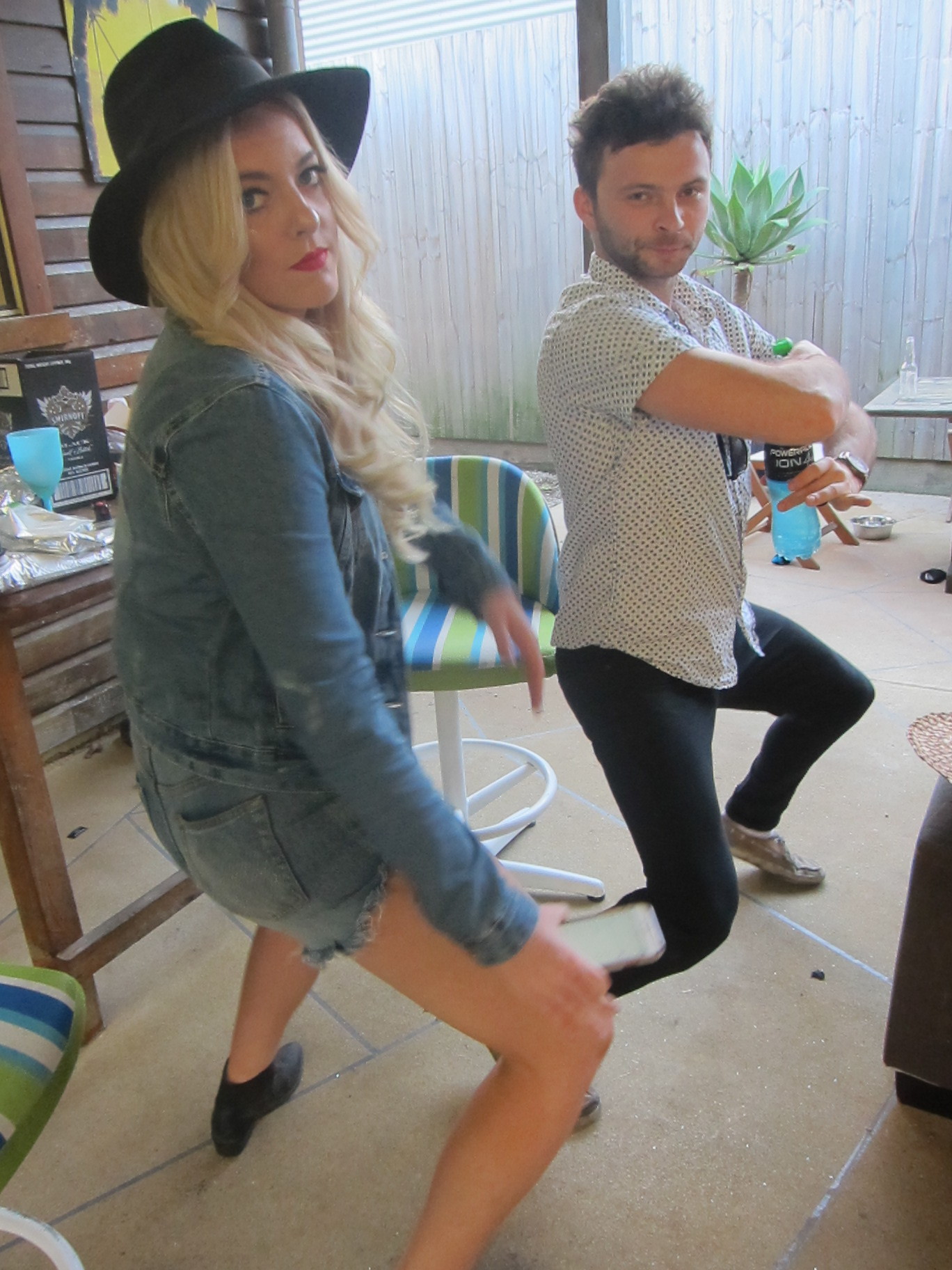 All too soon, we were doing our final walk to the festival...
You think these two get along or what?
As we were sitting waiting for the next bus, a car pulled up and offered to take us to the festival for just 5$ more than we'd pay for the bus. One peek into the clean, spacious car and the four of us unanimously and emphatically agreed. A sweet lady named Sandy sat behind the wheel and whisked us away in comfort.
Arrived in style and with just enough time to capture that gorg sky before getting our groove on.
Jenna made a mad dash for a Pokemon...
While I, on the other hand, had my eye on my beloved disco tent...
After we had our fill of the tent, I was pried off Conor's shoulders and away from the tent back to the mainstage. Here we filed in with literally everyone else at the festival to see the headliner of the weekend, Flume. He put on a killer show where he brought out tons of guests (all Aussie's!) and the house down.
I love that this is the last photo I have from the weekend. Everyone with their lighters up and the cheeky moon still in sight! Traveling was always on the Down Unda to-do list, but I never thought I would get so lucky so early on in my adventure. Byron Bay is absolutely beautiful and made the most perfect backdrop for a weekend full of great music and great people.
Fun fact: Those are actual lighters, not iPhones; After all this is an Aussie festival, not a J Biebs concert!